Bouncers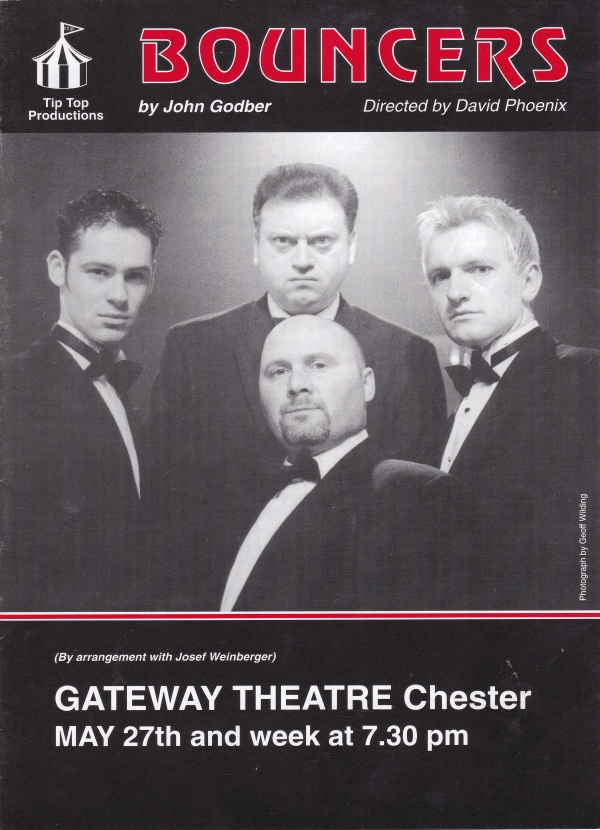 27/05/02 - 01/05/02
Venue: Gateway Theatre
Cast
Eric - Brian Gorman
Judd - Mark Newman
Ralph - Simon Phillips
Les - Stuart Evans
Production team
Director - Dave Phoenix
Producer - Andrew Roberts
DSM - Chrissy Evans
Reviews
"Play keeps on bouncing back" - Philip Key (Daily Post - Cheshire edition)
There can be few regional theatres which have not staged John Godber's comedy, Bouncers, at least once and last night it came bouncing back at Chester's Gateway Theatre, a venue which has staged it several times in the past.

As this new production from the local Tip Top Productions underlined, it is a show which works gloriously well in the theatre and remains very funny some 17 years since it was first written. A cast of just four chaps take on the characters of practically everyone in a night club, from likely lads to giggling girls, disc jockeys to, of course, the bouncers themselves. The four remain in their regulation bouncers' dinner jackets, even when playing the girls or the characters in a Swedish sex video. It takes a bit of swagger from the four actors involved and happily Tip Top have four bright performers to take on the task. Brian Gorman is the moody Lucky Eric who, alone in the cast, gets an opportunity to deliver four monologues. With his deep-set eyes and snarling mouth he looks the part but also captures the personality of a large girl with a big chest who is out on the town with friends. Mark Newman's Judd tends towards the frightening but as events prove is a paper tiger; Stuart Evans in a nicely-judged performance as Les is the more complex bouncer while Simon Phillips as Ralph is a real hoot and even more so as the sex-mad girl on a night out (with shades of Lily Savage in style and looks).

Godber's script gives them a lot to work with, the mood often swinging between comedy and social tragedy but generally with a big smile whatever the subject under scrutiny.

Director Dave Phoenix keeps the action moving with a music selection which is always apt. Choreographer Pam Evans-Hughes also gets the lads to do an hilarious version of Michael Jackson's Thriller video.

Some local references have been added to the script as well as contemporary ones. The TV series Who Wants to be A Millionaire? gets a mention - and while some of the club action may be mere nostalgia these days, the show is still a terrific piece of entertainment.

Tip Top is, incidentally, an amateur company but on this showing its standards are strictly professional.
Chris Smith (Chester Chronicle)
Having seen the national tour of Bouncers at the Gateway several years ago, I was intrigued to see how Chester's own Tip Top Productions could match its raw energy and superb performances. I'm delighted to report they handled it brilliantly.

Brian Gorman (Lucky Eric), Mark Newman (Judd), Simon Phillips (Ralph) and, the star of the bunch, Stuart Evans (Les) were all superb in what are demanding and difficult roles.

For the uninitiated, they are the four bouncers of the title, prowling around the entrance to Conkers Nightclub. To make it more localised there are lots of mentions of Chester's pubs, clubs and areas. But the lads also take on the roles of four ordinary girls plus four lager louts - though to be fair, they are not content to just portray stereotypes and so make attempts to flesh out their individual characters.

Many people think Bouncers is a straightforward comedy, but it is also acutely observed and tragicomic, highlighting the emptiness of the whole 'nightclub and cheap sex on a Saturday night' experience. Because of its accuracy, we can all identify with aspects of the characters and what they get up to before and inside the club. the playing of the girls is not only all too accurate but hilarious too.

The bouncers are there to keep us rooted in reality and Lucky Eric's philosophising reminds us of the degredation and sordidness involved in today's lager lout dominated culture. Both social satire and one of the funiest things ever performed at the Gateway, credit must go to playwright John Godber and the four guys from Tip Top. Brilliant!
Jim Howie (Chester Herald & Post)
My Respect for the four actors who played over 20 wildly contrasting roles at the Chester Gateway in John Godbers comedy Bouncers knows no bounds.

In the Tip Top Production Brian Gorman, Mark Newman, Simon Phillips and Stuart Evans, under Dave Phoenix's fluent direction, gave slick, smooth and comic performances, even managing to convey gently the sadder element in this tale of four bouncers and the people they have to deal with in a northern nightclub, also portraying giggling ladies on a night out and lads about town. Godbers play is updated and localised to best effect.

While some of the antics are rather repetitive, the jokes a bit school boyish the play makes for capital entertainment and ensured much-needed 'bums on seats'.