Avenue Q

by Robert Lopez and Jeff Marx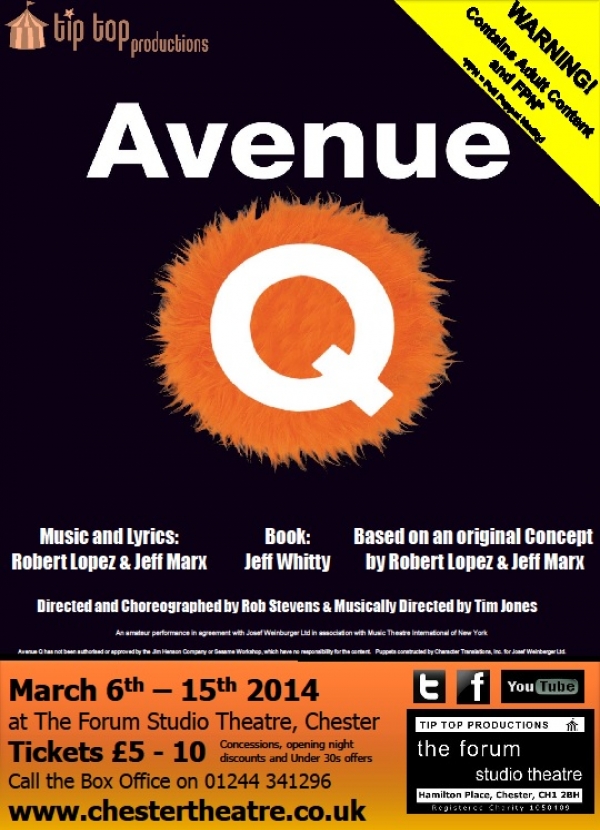 06/03/14 - 15/03/14
Venue: The Forum Studio Theatre
CARTOON books, computer games and television animation have all been adapted for adult audiences. Now it's the turn of puppets - or more accurately Muppets which the puppets in this off-the-wall musical look rather like. It's like Sesame Street with sex.
There's the New York tenement block and a cast of wild, witty and outspoken puppets with three real humans mixed in. The result is a smart series of sketches linked by themes of relationships, ambitions, failure and self discovery - just the usual human hang-ups, then. At the centre is college graduate Princeton who has an apparently useless BA in English and no job and finds himself forced to live on low rent Avenue Q.
Like most of the characters he is a puppet or a half puppet, worked and spoken by a puppeteer who makes no attempt to hide himself. He speaks and sings for his character. For this is a musical with outrageous songs by Robert Lopez and Jeff Marx who came up with the original concept.
What other show would feature a song titled Schadenfreud? Or where else would you find a sympathetic investment banker? He's a puppet named Rod, a closet gay tortured by his secret. There/s a furry monster creature whose big song is The Internet Is For Porn and the jolly human Brian who sings apropos of nothing I'm Not Wearing Underwear Today.
Avenue Q is wild and witty and works by sheer inventiveness and a large dollop of nerve.
Cast
Princeton - Robert Lyon
Kate Monster - Bethan McCann
Nicky - Chris Jones
Rod - Andy Reilly
Trekkie Monster - Andy Jordan
Lucy / Mrs Thistletwat - Dani Fray
Bad Idea Bear / Swing Puppeteer - Natasha Beach
Bad Idea Bear / Swing Puppeteer - Amy Robinson
Brian - Andrew Maskall
Christmas Eve - Rhian Underwood
Gary Coleman - Dan Bapeck
Production team
Director & Choreographer - Rob Stevens
Musical Director - Tim Jones
Assistant Director - Leah Tyson