'Allo 'Allo

by Jeremy Lloyd & David Croft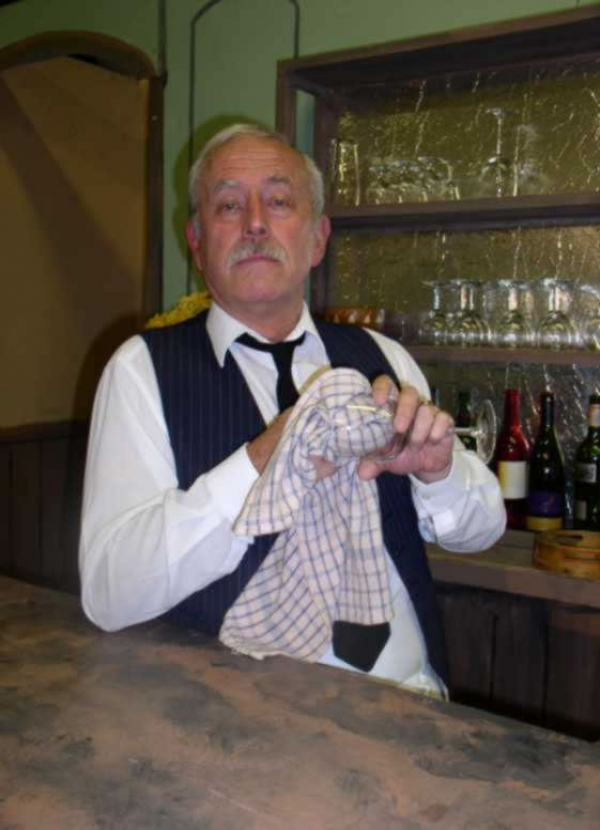 25/10/05 - 29/10/05
Venue: Wrexham Studio Theatre
Cast
Rene - John Lindop
Edith - Sally Dillon
Yvette - Lisa Evans
Mimi - Kellie Smith
Crabtree - Stephen Webb
Michelle - Delyth Underwood
Leclerc - Robin Chambers
Colonel - Mark Shenton
Helga - Amy Chambers
Alberto - Ken Williams
Flick - Paul Quinn
Gruber - Gareth Pierce
Schmelling - Eric Jones
Airmen - Dave Pearce & Steve Sconce
Production team
Producer/Director - Steve Davies
Producer/DSM - Andrew Roberts
Lighting - Will Hall, Nick Roberts
Sound - Andy Cheatham
Stage Managers - Andy Cheatham, Nick Roberts
Props - Wendy Healiss, Sandra Rogers
Wardrobe - Barbara Davies
Reviews
The Fleetwood Gazette
Last night's offering in the Fleetwood Theatre Festival filled the dome of the Marine Hall with the sound of laughter.

This play attempts to 'up' the pace of the rather gentle TV series, so the company staging it faced some additional challenges. The audience knew exactly what to expect, but this play is very tricky theatrically, and there were many scene changes and effects to handle.

Tip Top Productions of Wrexham presented this very complicated comedy on an impressive set which must have been difficult under festival conditions. Costume and wigs were excellent. Helga's suspender belt with swastikas getting a special mention from adjudicator Paul Fowler. Music and props also showed great attention to detail, but Mr Fowler thought the play had been somewhat underlit.

The acting was very good, with some lovely and imaginative stage business. The main character, Rene, played by John Lindop, had just the right care-worn air and some lovely comic timing. He and his wife, Edith, (Sally Dillon) struggled to keep for themselves a priceless portrait – you know the one! – stolen by the Nazis and kept in a sausage in their cellar. The 15-strong cast were all praised for their hard work.

In summing up, Mr Fowler said this was a deceptively difficult piece of theatre, which needed energy and pace; this was not always the case in this production but it only needed fine tuning.