Aladdin

by Peter Swingler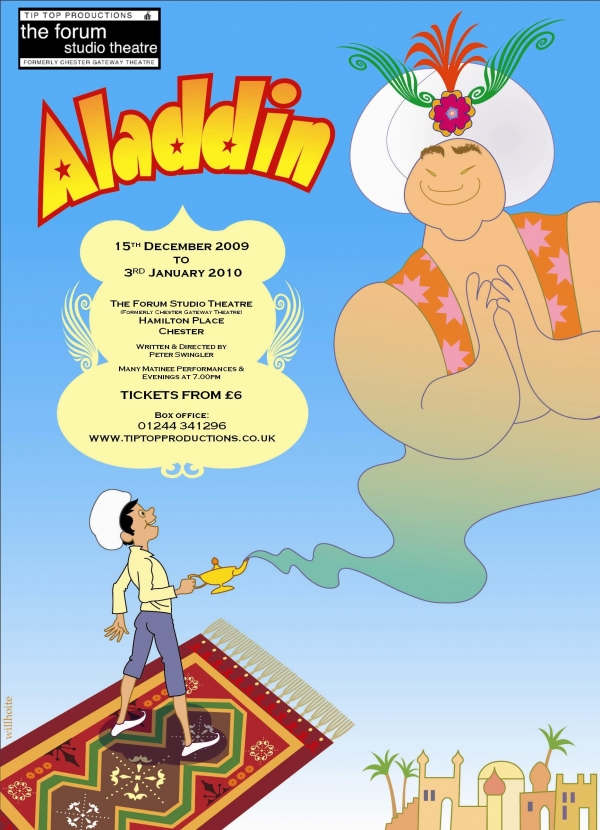 01/12/10 - 03/12/10
Venue: The Forum Studio Theatre
Chester's first traditional pantomime since the 1960's

Tip Top Productions will bring you a host of goodies in a traditional pantomime style.
Peter Swingler has been writing pantomimes for over 30 years and always tailors his local script to family audiences with the emphasis on fun.
There are generous discounts for families and group bookings.
So come and join Chester's panto team as they bring you lashings of fun, slapstick, song and oh yes...corny jokes by the score.
Please check the performance schedule as many performances are now sold out!

PERFORMANCE SCHEDULE

Tuesday 15th December - Schools Performances 10am and 2pm SOLD OUT
Wednesday 16 December - Schools Performances 10am SOLD OUT
Thursday 17th December - Schools Performances 10am SOLD OUT
Thursday 17th December - Schools Performances 2pm LIMITED AVAILABILITY
Friday 18th December - 7.00pm SINGLE SEATS AVAILABLE
Saturday 19th December - 1.00pm SINGLE SEAT AVAILABLE
Saturday 19th December - 5.00pm SINGLE SEAT AVAILABLE
Sunday 20th December - 1.00pm SINGLE SEATS AVAILABLE
Sunday 20th December - 5.00pm SINGLE SEATS AVAILABLE
Monday 21st December - No Performance
Tuesday 22nd December - 7.00pm - SINGLE SEATS AVAILABLE
Wednesday 23rd December - 7.00pm - SINGLE SEAT AVAILABLE
Thursday 24th December - 4.00pm SINGLE SEAT AVAILABLE
CHRISTMAS DAY - No Performance
BOXING DAY - 3.00PM SOLD OUT
Sunday 27th December - 1.00pm - SINGLE SEAT AVAILABLE
Sunday 27th December - 5.00pm - SINGLE SEAT AVAILABLE
Monday 28th December - 1.00pm - SINGLE SEAT AVAILABLE
Monday 28th December - 5.00pm - SOLD OUT
Tuesday 29th December - 7.00pm - SOLD OUT
Wednesday 30th December - 7.00pm - SOLD OUT
NEW YEAR'S EVE - No Performance
NEW YEAR'S DAY - No Performance
Saturday 2nd January - 1.00pm - SINGLE SEATS AVAILABLE
Saturday 2nd January - 5.00pm - SINGLE SEATS AVAILABLE
Sunday 3rd January - 1.00pm SINGLE SEAT AVAILABLE
Cast
Aladdin-Bethan Mascarenhas
Princess Jasmine-Jen Heywood
Abanazar-Tony Prince
Widow Twankey-Ali Babakordi
WPC Karaoke- Stephanie Phillips
Wishee Washee-Peter Edwards
Genie of the Lamp- Lee Hassett
Slave of the Ring-Becki Sheppard
Production team
Director: Peter Swingler
Choreographer: Pam Evans-Hughes
Musical Director: Tim Jones
Reviews
Entertainments (Wrexham Leader) by Les Chamberlain - Friday 1st January 2010
HOW do they do it? That's what I asked myself watching Tip Top Productions pantomime Aladdin in their Forum Studio Theatre, Chester.
It is a stunning production despite the confined stage space with the eight actors and six dancers coping admirably.
Great credit to the writer and director Peter Swingler for using every available inch of the stage area and keeps the action flowing effortlessly despite the cramped conditions. Yet again he has written a brilliant script.
He told me: "It hasn't been easy squeezing the show into a small space, but I think it will work better next time. We've learned a lot from the experience so we'll make it better next year!"
With the greatest respect to former pantomime performers, it was pleasing to see new faces.
Bethan Mascarhenas in the title role confidently oozes bezaz and shows tremendous enthusiasm throughout. A lovely performance this.
Jen Heywood, although not having a strong singing voice, certainly looks the part of the regal Princess Jasmine and complimented Bethan very well.
Tony Prince makes a humorously wicked Abanazer and has a great report with the audience with his quick-wickedness. The water squirting scene is hilarious with the audience loving every minute of it. Full marks for his rendering of Bad (must be the in-song this season) and the Tom Jones classic, Delilah.
After a cautious start, Ali Babakordi neatly falls into the comedy role of Window Twankee with success.
Peter Edwards as her son Wishee Washee, proves a big favourite bringing out his comedy to the full abd the audience happily joined in with his version of a Mexican Wave - the Wishee Wave.
Equally at home with the comedy is Staphanie Phillips as Sergeant Karaoke with her cackling laugh.
It is not until late in the show that Lee Hassett appears as the rotund Brummie-speaking Genie of the Lamp, but it is a wait well worth waiting for.
He has the audience in fits of laughter at each entrance.
Becki Sheppard makes a delightful all-singing, all-dancing Slave of the Ring to add greatly to the evening's enjoyment.
Praise too for the dancers, Becky May, Lisa Evans-Hughes (her solo dance was outstanding) Rebecca Roberts, Emily Hughes, Keiran Jones and Karl Jones.
Their precision and energetic dancing is a great credit to choreographer Pam Evans-Hughes. Throughout, they look as if they are really enjoying themselves.
The alternating team comprises Jessica Tilling, Lyndsey Price, Menna Williams, Michael Jones, Keiran Connor-Valentine and Sarah Darlington.
Mel Regan is responsible for Widow Twankee's extravagant dresses while head of wardrobe Babara Davies and her team combine to make some excellent costumes.
The outstanding show is rounded off by the set designs of Keith Evans and by Michael Willhoite who painted them.
The exuberance of the performers transfers to the audience and, say it quietly, even I shouted back "oh yes he is" and other replies from the audience. It was a show that, on coming out, my wife said she could have sat through it all again. And so could I.
In the past few years, the company has performed its pantomimes in the Stiwt Theatre, Rhos, but this year another company was booked for that venue.
Peter said: "Thanks to the Stiwt, we can go in a new direction! We sold 99.6 per cent of availiable seats - over 3000 in total."
Thats a huge success by any standard.
The pantomime closes on Sunday January 3. If there are any of the few seats left, or there are any returns, contact Tip Top as soon as you can. It is really well worth a visit.