A Funny Thing Happened On The Way To The Forum

Book by Burt Shevlove and Larry Gelbart, Music and Lyrics by Stephen Sondheim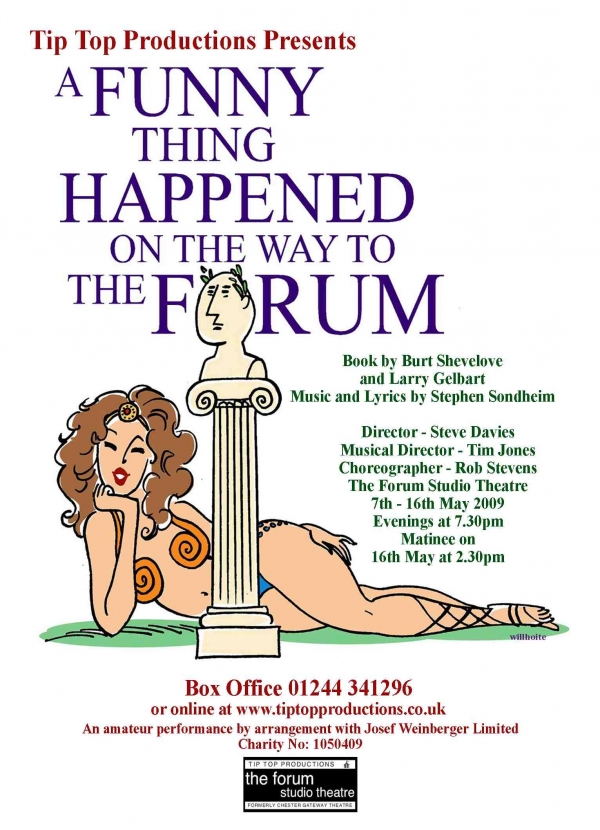 07/05/09 - 16/05/09
Venue: The Forum Studio Theatre
Anyone for a Comedy Tonight?
Inspired by the farces of the ancient Roman playwright Plautus ((251-183 B.C.), it tells the bawdy story of a slave named Pseudolus and his attempts to win his freedom by helping his young master woo the girl next door. Forum displays many classic elements of farce, including puns, a set with many doors and cases of mistaken identity!
''A show that has strong claims to being the funniest musical ever written'' Guardian

Prepare yourself for the funniest night out you've ever had at a musical!

Non-stop laughter awaits you with THE Funniest Musical, A Funny Thing Happened on the Way to the Forum, with Music and Lyrics by Stephen Sondheim and Book by Burt Shevelove and Larry Gelbart.

Screamingly funny! Downright hilarious! It's an accelerating whirl of mixed identities, swinging doors, double takes, double entendres, outrageous puns and gags that will keep you laughing all the way home. Winner of tons of Tony Awards including Best Musical.
Cast
Prologus/Pseudolus - John Lindop

Proteans - Allan Forrest, Phillip Laing, Rob Stevens

Senex - Ken Williams

Domina - Gwen Cowan

Hero - Chris Peate

Hysterium - Gareth Pierce

Lycus - Mark Newman

Tintinabula, Panacea, The Geminae, Vibrata, Gymnasia (The Courtesans) - Julie Andrew, Laura Roberts, Sarah-Jayne Best, Claire Stephens, Kate Salmon, Lucy Davies


Philia - Charlotte Williams

Erronius - Bob Hopkins

Miles Gloriosus - Stuart Evans
Production team
Director - Steve Davies
Musical Director - Tim Jones
Choreographer - Rob Stevens
Producer - Ruth Evans
DSM - Chrissy Clegg
ASM - Jane Dixon
Designer - Michael Willhoite
Set Builder - Nick Roberts
Props - Sandra Rogers with Wendy Healiss, Judi Potter
Wardrobe - Barbara Davies
Lighting - Ian Jones
Sound - Richard Stokes
Reviews
Review: Evening Leader 12th May 2009
"Enjoy a great show and forget any troubles"

Something for everyone, a comedy tongiht.
readers, forget your worries and, leave all the bad news in the newspapers. Want to have an evening of great fun? At The Forum Theatre in Chester there is a show that will have you laughing and cheering for a few hours. It runs until Saturday May 16th.
No French farce has the pace and humour of 'A Funny Thing Happened On The Way To The Forum'. An ancient Roman farce if you like. Here it's not men in tights but men in togas. Are musicals supposed to be this funny? I remember not being too impressed by the film version of this Stephen Sondheim show a few years ago.
Here in Chester, perhaps it's the intimacy of a small theatre, or a really attractive set, perhaps it's the talented actors all bringing that little bit extra to their roles. Maybe director Stephen Davies has tapped into some inner magic to this such a feel good evening.
I already knew it had one of the best opening numbers of any musical 'Comedy Tonight'. When John Lindop steps out for the prologue that leads into the song you know instantly that he is going to be perfect as Pseudolus. Here is a slave who is always going to get his own way. He looks so mischievious, so right for the part and sings so well. He looks great in orange too.
Believe me, it is the same for all the cast. A show in which everyone is special, everyone makes you laugh. Every one sings so well. OK maybe Gareth Pierce and Stuart Evans are especially funny but the night I saw it everyone was a star.
Chester is so lucky to have this company at the Forum. Lucky to have Chester Operatic down the road too. Sad that Chester does not have permanent home for such companies since the Gateway closed.

Fred Price,
Llys y Ddol,
Mold
Review Wrexham Leader 15th May 2009
It has been a long time since I laughed out loud and had tears running down my face at a comedy, but that was the case at Tip Top Productions A Funny Thing Happened The Way To The Forum at their Studio Theatre, Chester.
It is one of those shows that I would have loved to see it again.
Stephen Davies, assisted by producer Ruth Evans, has directed a slick, fast-moving show and has moulded together a superb cast with no weak links. The laughs ccome fast and furious, at times verging on farce with split-second timing.
John Lindop excels in the role of the cunning slave Pseudolus dreaming up all kinds of plots to gain his freedom. A great performance this. Vying with him in the comedy stakes is Gareth Pierce as Hysterium, and his performance in the "death" scene, full of panache, is a gem.
Ken Williams adds splendidly to the comedy as Senex, and old man, with the trio's song and dance routine in Everybody Ought To Have A Maid, is hilarious. Senex's dragon of a wife, albeit a very attractive one, played by Gwen Cowen, cannot be faulted and her lovely soprano voice compliments Ke Williams's fine baritone.
Stuart Evans makes and arrogant , boasting Roman warrior, and again his performance in the "death" scene had everyone in stitches.
Mark Newman is funny as the buyer and seller of courtesans and Bob Hopkins makes the most of the small part of a dodery old man looking for his lost son and daughter. He creates laughter at every entrance.
Chris Peate and Charlotte Williams are delightful as the star crossed lovers and they too are extremely funny in the musical number Lovely. Taking a number of roles between them and adding to the fun are Allan Forrest, Rob Stevens and Phillip Laing.
Glamour in the form of the courtesans is provided by Lucy Davies, Laura Roberts, Kate Salmon, Julie Andrew, Sarah-Jayne Best and Claire Stephens.
The choreography is by Rob Stevens and Tim Jones directs a well-balanced orchestra.
American Michael Willhoite, who has 20years association with the company, has come over specially to design an excellent set with some subtle decorations on the doors of two of the three houses and specially effective is the Roman road design.
Barbara Davies and her team have made some colourful, yet simple, costumes.
There's a line in the opening number which says "Comedy tonight, tragedy tomorrow."
The tragedy is that there is no bigger theatre in which such a briliant theatre company can perform. They work wonders on such a small stage, but it is a pity that more people cvannot see their excellent productions.
A Funny Thing Happened On The Way To The Forum can be seen again tonight and tomorrow.